Catherine Draycott from Wellcome Images writes in Varoom Issue 34 on the history of how health has been depicted. She states that since the Renaissance, the knowledge of the human body and its diseases and illnesses were driven by images, largely with what can be seen by the eye. Images of the body were also stylised and based on assumptions. With Anton Van Leeuwenhoek's pioneering breakthroughs in microbiology, it allowed scientists and artists to reveal the secrets of the invisible. With a thirst for knowledge, this led to practitioners creating images that were dark yet beautiful.
An example of this is in Gautier d'Agoty's image of a woman's spine, using a colour mezzotint print process. With its yellow and red tones muted with black, this plate gives a large amount of detail into the woman's spine, whilst still being aesthetically pleasing as a decorative painting, evoking darkness and morbidity. The principle purpose for this image was for the study of anatomy, not just for scientists but also for anyone interested in the subject, including artists, sculptors and students. Could it be that the images he created were done in such a manner that they were more accessible?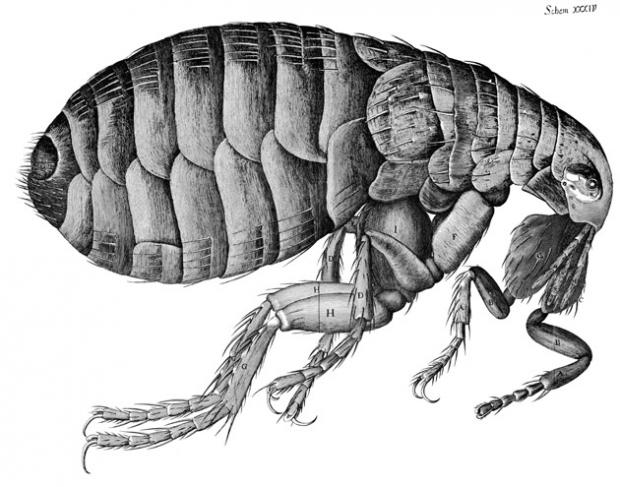 The invention of the microscope gave way to illustrating microbes, cells and microorganisms . This led to artworks that served as informative. An example of this is Robert Hooke's flea. This study of such a tiny creature scaled up with great detail creates a beautiful image that induces intrigue as well as fear. The purpose of this image was to incite and inform, demonstrating a flea's anatomy and how although it is very different to that of a reptile, bird or mammal, it is still constructed on a basic animal model. This creature has a head, a body and limbs like creatures we were already familiar with.
Images like this did also generate fear as the world became more aware and informed on illnesses and potential health risks. This led to illustrations acting as a health warning, such as William Heath's Monster Soup. This illustration depicts a sophisticated woman in London, about to sip her tea when she drops it after seeing what is in the water. Next to her in the image, a drop of the water is magnified to reveal this scary looking creatures, representing the filth of London's drinking water. The method of visualizing germs and bacteria as monsters is still used to this day, you just have to watch any toilet cleaner advert.
In contrast, more contemporary illustrations of viruses depict them as beautiful. One of the best examples of this is Goodsell's work, in particular the Ebola Virus, which was the overall winner of Wellcome Image Awards in 2016. This piece is a cross section of Ebola, a virus that at the time was greatly feared and widespread. This beautiful watercolour and ink illustration is scientifically accurate to the greatest detail; Goodsell's background in microbiology makes sure of this. As cells are colourless, he uses a bright colour palette, highlighting the different elements within the structure. The reason he chose to depict Ebola was that he wanted to show the direct scientific application as well as demonstrate to people that this virus is being researched and scientists are actively looking for ways to battle it. His work not only has a scientific application for research purposes, but they are individual works of art that are visually captivating; a very different reaction to that of the works of Hooke.
Reading this article and further looking into how illnesses have been depicted has left me to question how I want my own illness to be displayed. Fibromyalgia is invisible. You can't look at it under the microscope. There's no visual inflammation when I am in pain. An x-ray could not pick up the affect it's having on my body. This is the case for so many other illnesses, which is more than likely the reason for why these conditions are so misunderstood. Personally, I am a very visual person and find it hard to get my head around things until they are presented to me visually. I feel that the best way for me to present this illness' effects is through metaphors, which I plan to work on over the next few months.
I then have to decide how I want the images to perceive. What reaction do I want to invoke? There is no doubt that Fibromyalgia is horrible. It means for a complete lifestyle change, limits what you can physically do in a space of time, changes the way you think and is emotionally draining. I suffer with this condition but I am doing my best to not let the condition own me. I am also quite grateful that I have it. I feel like I can be so much more empathetic to people, a lot more understanding of individual struggles, so much more open minded and far less judgmental of others. I feel like I have become a better person for it. I want non-sufferers to understand the affects of fibro, but I want sufferers to know that there are plus sides to having this. It's not all doom and gloom.
References

BBC – History – Historic Figures: Antonie van Leeuwenhoek (1632 – 1723). 2017. BBC – History – Historic Figures: Antonie van Leeuwenhoek (1632 – 1723). [ONLINE] Available at: http://www.bbc.co.uk/history/historic_figures/van_leeuwenhoek_antonie.shtml. [Accessed 02 September 2017].

British Museum. 2017. British Museum – Monster soup commonly called Thames water, being a correct representation of that precious stuff doled out to us!!! . [ONLINE] Available at: http://www.britishmuseum.org/research/collection_online/collection_object_details.aspx?partId=1&objectId=3020223. [Accessed 08 September 2017].

Draycott, C, 2016. A History of Looking at Health. Varoom, Issue 34, 18-25.

Juxtapoz Magazine – David S. Goodsell's Biomolecular Art. 2017. Juxtapoz Magazine – David S. Goodsell's Biomolecular Art. [ONLINE] Available at: https://www.juxtapoz.com/news/illustration/david-s-goodsells-biomolecular-art/. [Accessed 09 September 2017].
The Independent. 2017. The Flea (1665), Robert Hooke | The Independent. [ONLINE] Available at: http://www.independent.co.uk/arts-entertainment/art/great-works/the-flea-1665-robert-hooke-1819454.html. [Accessed 08 September 2017].

Wellcome Library /Entire. 2017. Wellcome Library /Entire. [ONLINE] Available at: http://catalogue.wellcomelibrary.org/record=b1572024. [Accessed 02 September 2017].

Wellcome Images. 2017. Wellcome Images. [ONLINE] Available at: https://wellcomeimages.org/indexplus/image/V0011218.html. [Accessed 08 September 2017].

Wellcome Image Awards | Ebola virus . 2017. Wellcome Image Awards | Ebola virus . [ONLINE] Available at: http://www.wellcomeimageawards.org/2016/ebola-virus. [Accessed 09 September 2017].
Wellcome Collection. (2016). Illustrating Ebola – David S Goodsell. [Online Video]. 15 March 2016. Available from: https://www.youtube.com/watch?time_continue=245&v=f0rPXTJzpLE. [Accessed: 9 September 2017].